More productivity with Agile Coaching
We support your project for four weeks and train your team to become professionals in agile project management.
Once your team works independently and makes joint decisions, your projects fly, right?
Within four weeks, we establish agile organizational structures that increase your productivity in the long term.
Two hours of coaching, have supported our agile project management more effectively than two days of SCRUM workshop. Incredibly valuable!
The potential analysis is insane. Since then, our team plans the projects independently and organizes itself collaboratively. A Game Changer!
The very first interview raised questions that we never asked ourselves. After the project support, the effects are noticeable. An autonomous team!
What causes many projects to fail?
Three indispensable qualities of agile project management
1. Trust
Trust is the basis for autonomous work and development. The Re:Think methods are designed to overcome uncertainty in a matter of minutes and enable a team to work confidently.
2. Communication
Communication is the basis for successful cooperation. Regularly and purposefully, the Re:Think methods structure the exchange to enable collaborative decision-making and maximum transparency.
3. Focus
Focus is the foundation for productive and meaningful results. The goals and their implications are at the core of the Re:Think methods. They enable the autonomous, sensible and agile distribution of tasks within the team.
RESULT
Due to a lack of trust, even the introduction of agile project management methods often fails to effectively reduce hierarchies. The communication is characterized by ambiguity and uncertainty and thus creates the impression of professional deficits. This shifts the focus toward reviewing performance and away from the content basis. The result is complicated specifications, restrictive rules and little flexibility to identify and exploit meaningful improvements during the project.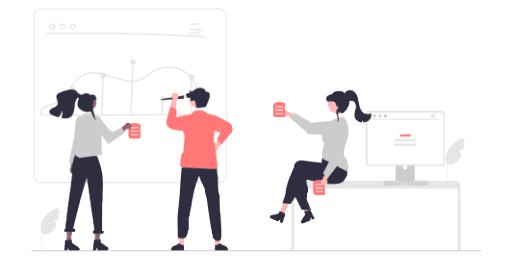 Agile coa­ching only in­creases your pro­duc­tivity if…
…you want to adapt project plans dynamically to changing conditions.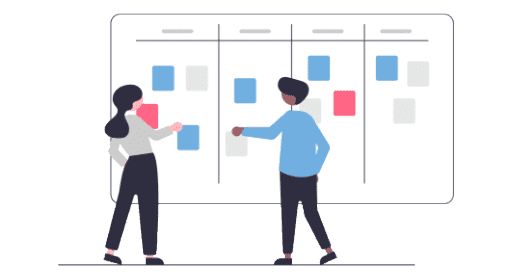 …you want to promote the autonomous organization of your team.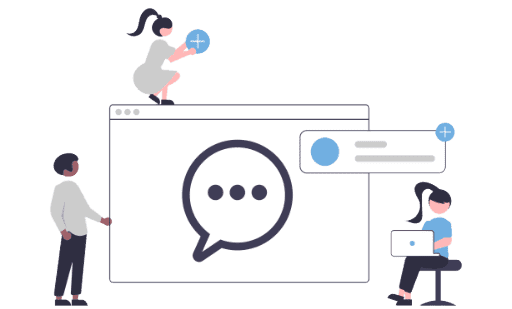 …you want to trust in the skills and expertise of your team.
What Agile Coaching needs to do for you?
Increase in productivity
…through uniform working methods and decision criteria!
Superior quality
…through regular and clearly structured feedback loops!
Zero distance to customer
…through iterative work phases build on user experiences!
Effective prioritization
…through transparent goal setting and effectiveness in task planning!
Improvement of flexibility
…through individual awareness of team potential and a common code of conduct!
Faster results
…through trust, communication and focus on the effectiveness of the work!
Why are the results of our clients so good?
With us, you don't get project management according to conventional methods, but real empowerment for long-term agile collaboration.
Agile
New methods are often decided from the "top down" and give people a feeling of being forced into new ways of working. Rejection, fear and frustration create internal resistance and poorer results.
Re:Think
The uniquely modular structure of the Re:Think methods gives everyone the freedom to design their own way of working according to their own interests and abilities, while supporting the team in the best possible way.
Agile
Most agile methods specify organizational and communication structures. People have to accept many changes at once and have little time to get used to them. Often these end along with the completion of the project.
Re:Think
With Re:Think methods, communication and organization is structured by the needs of the group itself. No guidelines and rules, but collaborative decisions for truly long-term agility.
Agile
Many agile methods are based on hierarchies, even if the network idea is in the limelight. Often team members look for a role and the hidden potential remains unused.
Re:Think
The Re:Think methods know no hierarchies; only personal responsibility. Team members are all equal and positions irrelevant. What counts are the actual skills and their benefits!
That's how you can work with us!
In three simple steps you can start your agile project management.
Step 1
Arrange your free consultation and reserve about 15 – 20 minutes for it.
Step 2
We analyze your situation and determine the right agile strategy for your project.
Step 3
We support your team for four weeks and empower the members to agile teamwork.
What happens during the consultation?
We discuss your initial situation, as well as your goals and experience with agile teamwork. Here we already develop a part of the strategy that can empower your team in the long run.
This is how your agile pro­ject manage­ment con­tinues
Your time investment approx. 2 hours
Kick-Off
Let's get down to the business! We will discuss the framework of your project and the accompaniment. We take the content and organizational requirements to determine the right strategy.
Strategy
With the information from the first consultation we create an organizational concept with which we accompany your project. Your personal wishes and concerns will be taken into consideration.
Support
Once the strategy is set, we support the project team and train the team members in methods of agile project management, team leadership and personal development.
Review
After the project, a detailed review takes place. Here we discuss the results of the potency analyses and the development of the individual team members. This way you will be perfectly prepared for the next projects.
What our Agile Coaching promises you!
Direct productivity!
We work together from the first to the last minute and achieve effective results for your project!
No workshop needed!
We don't do kick-off events or workshops with boring theory. We are directly productive!
Instant application
The Re:Think methods accompany your team and enable continuous training through joint work!
The Re:Think History started about ten years ago when I, Stephan Plesnik, was working in a small team of IT- and data protection specialists. Witnessing how colleagues dealt with every day situations and perceiving challenges as problems to hard to solve. I found myself Re:Thinking the way we shape our work and for that matter live in general.
Instead of sharing my solutions to certain problems I developed little step by step instructions leading my colleagues to their own answers. The big difference towards known coaching systems are the instantly effective usable results. Explain why something works should always follow the uplifting realisation that it already worked out great. This idea led me to the development of the Re:Think Methods.
After testing the Re:Think Methods in my own team and refining the processes together we took them to our clients. My goal was to create a set of methods that would be universally accessible to any person and guide them thoroughly towards their best personal results. The countless feedback loops with Re:Think Participants and the ongoing ten year research in psychology, behaviour, society and ethics led to simple instructions usable in our daily work and living environments.
Until now the Re:Think Methods have developed into a powerful set of tools enabling business innovation, empathic leadership and high performance teamwork.
Let's stay curious together and Re:Think Worth to Re:Work Wealth.